Sizing Information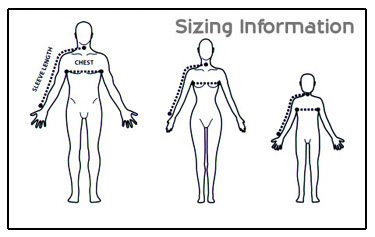 SIZE

XS
S
M
L
XL
2XL
3XL
4XL

33-35

36-38

39-41

42-44

45-48

49-52

53-56

57-60

SLEEVE

32-32.5
33-33.5
34-34.5
35-35.5
36-36.5
36.5-37
37-37.5
37.5-38

NECK

14
14.5-15
15-16
16-16.5
16.5-17.5
17.5-18
18.5-19
19.5-20

29

30-32

32-34

34-36

36-38

38-40

40-42

42-44

30-32

33-35

36-38

39-41

42-44

45-46

29-29.5

30-30.5

31-31.5

32-32.5

32.5-33

33-33.5

Jr. Small
Jr. Medium
Jr. Large

YOUTH

CHEST

26-27

28-30

32-33

SLEEVE

25-26
26.5-27.5
28-29

23-24

25-26

27-28.5
Please note: We encourage the use of sizing samples to have a more accurate sizing for our styles.
1. Chest - Under the arms and across the shoulder blades with a firm and level tape.
2. Hip - When standing, measure around the widest part of the hip..
3. Sleeve length ó Relax arm, and measure from the centre of the back of the neck, over the shoulder and down to the outer wrist.